How many dragon species are there?
Each dragon has custom art, sounds, mechanics and animations and have been recreated with the utmost care. Including Toothless, there are nine species of dragon to tame. Additionally, there are some smaller dragons you might see on your journey, but they cannot be tamed.
Tameable dragons:
These dragons are tameable - meaning you are able to fly them, and use them to attack.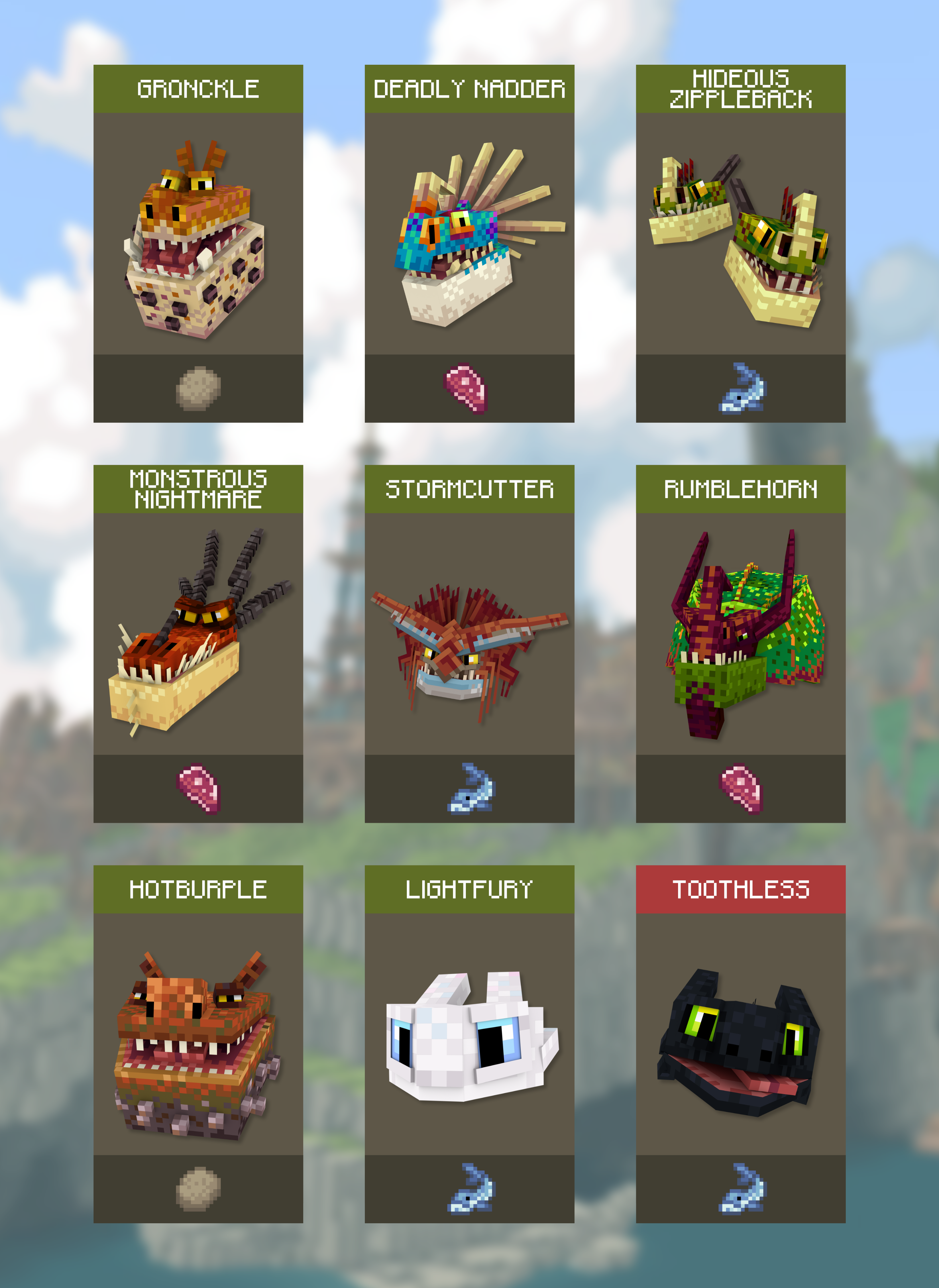 Non-tameable dragons:
These dragons populate the HTTYD world but are not tameable or ridable.
Hobgobbler
Terrible Terrors
You can learn more about what to expect with content updates here or where to find each of the dragons here.
Taming Dragons:
Dragons can be tamed by feeding them their food of choice, which can found in the book of dragons in the stables.
Dragon taming items:
Fish: To get fish use your dragon's attack in the ocean to kill fish and then collect them.
Meat: To get meat use your dragon's attack on sheep which populate the HTTYD world.
Pebbles: To get pebbles, interact with the small rocks on the ground around the HTTYD world.
Taming dragons:
To tame a dragon, make sure you're holding their preferred food item. You'll then have to sneak towards the dragon and interact with it to feed it. Keep feeding the dragon until "friendly" particles appear - it will usually take a few pieces of the food.
The dragon is now in a friendly state, so it will no longer run away but it is not tamed just yet! You'll still have to mount the dragon and complete what we have dubbed "the wild ride" where the dragon will try to kick you off. Remount and repeat until the dragon is tamed.
You can use it to both fly and attack, and it will return to the stables once outside of a certain radius.
Can you tame Toothless?
Toothless can only be tamed by Hiccup, and there is only one of him, as both of these are true to the franchise. After completing all the quests for the Hooligans, Toothless and Hiccup will let you ride Toothless. Keep in mind he is not tamed by you, but rather he is allowing you to ride him, so if you dismount and don't tell him to sit, he will return to Hiccup.
Breeding:
To breed dragons simply feed two of the same type of dragon Dragon Nip (by interacting while holding Dragon Nip) - the dragons will then breed and a baby dragon will spawn. This baby should be friendly towards you, but it is not yet tamed. You can tame it once it has grown up using a lovely combination of time and food.
Can you breed Night Lights?
You can not breed the Night Fury and Light Fury in Minecraft: HTTYD, so you can not get Night Lights. Toothless will do his dance if you attempt to breed him but will not make any Night Lights.