What is the Mastery Mirror?
The Mastery Mirror is one way you progress in Spellrune, by increasing your player's stats. It's located in the Workshop, right at the back of the building behind the Altar. Interact with it to access a menu, where you can learn more about each stat. Each time you upgrade a stat, the cost to upgrade it again increases.
What can I upgrade?
Below is a list of everything that you can upgrade at the Mastery Mirror.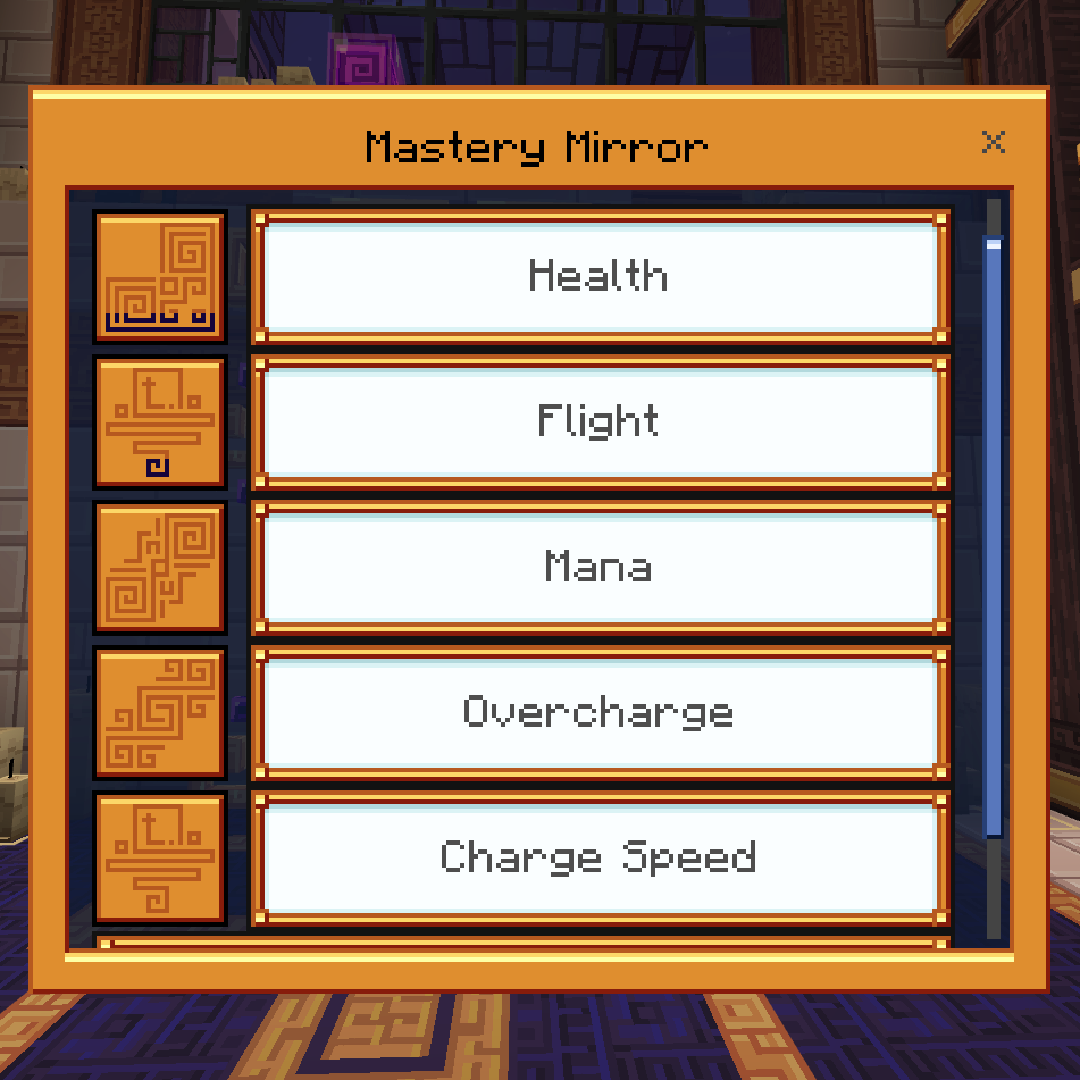 Upgrade List:
Stat
Description

Cost

Health
How many hearts of health you have.
Adds 2 hearts per tier.

Tier 1: 250

Tier 2: 500

Tier 3: 1000

Tier 4: 2000

Tier 5: 4000

Flight
Allows you to fly further.
Adds a couple more seconds of flight per tier.

Tier 1: 250

Tier 2: 500

Tier 3: 1000

Tier 4: 2000

Tier 5: 4000

Mana
How many mana crystals you have. Mana crystals are used to cast spells and having more of them means you can cast more often.
Adds 1 mana crystal per tier.

Tier 1: 250

Tier 2: 500

Tier 3: 1000

Tier 4: 2000

Tier 5: 4000

Tier 6: 8000

Tier 7: 16000

Overcharge

Spells cause effects in a bigger radius and deal more damage. Spells consume an additional mana crystal per tier.

Tier 1: 250

Tier 2: 500

Tier 3: 1000

Tier 4: 2000

Tier 5: 4000

Tier 6: 8000

Tier 7: 16000

Tier 8: 32000

Tier 9: 64000

Charge Speed
The time it takes to charge a spell.
Upgrading this allows you to cast spells more frequently.

Tier 1: 250

Tier 2: 500

Tier 3: 1000

Tier 4: 2000

Tier 5: 4000

Tier 6: 8000

Tier 7: 16000

Tier 8: 32000

Tier 9: 64000