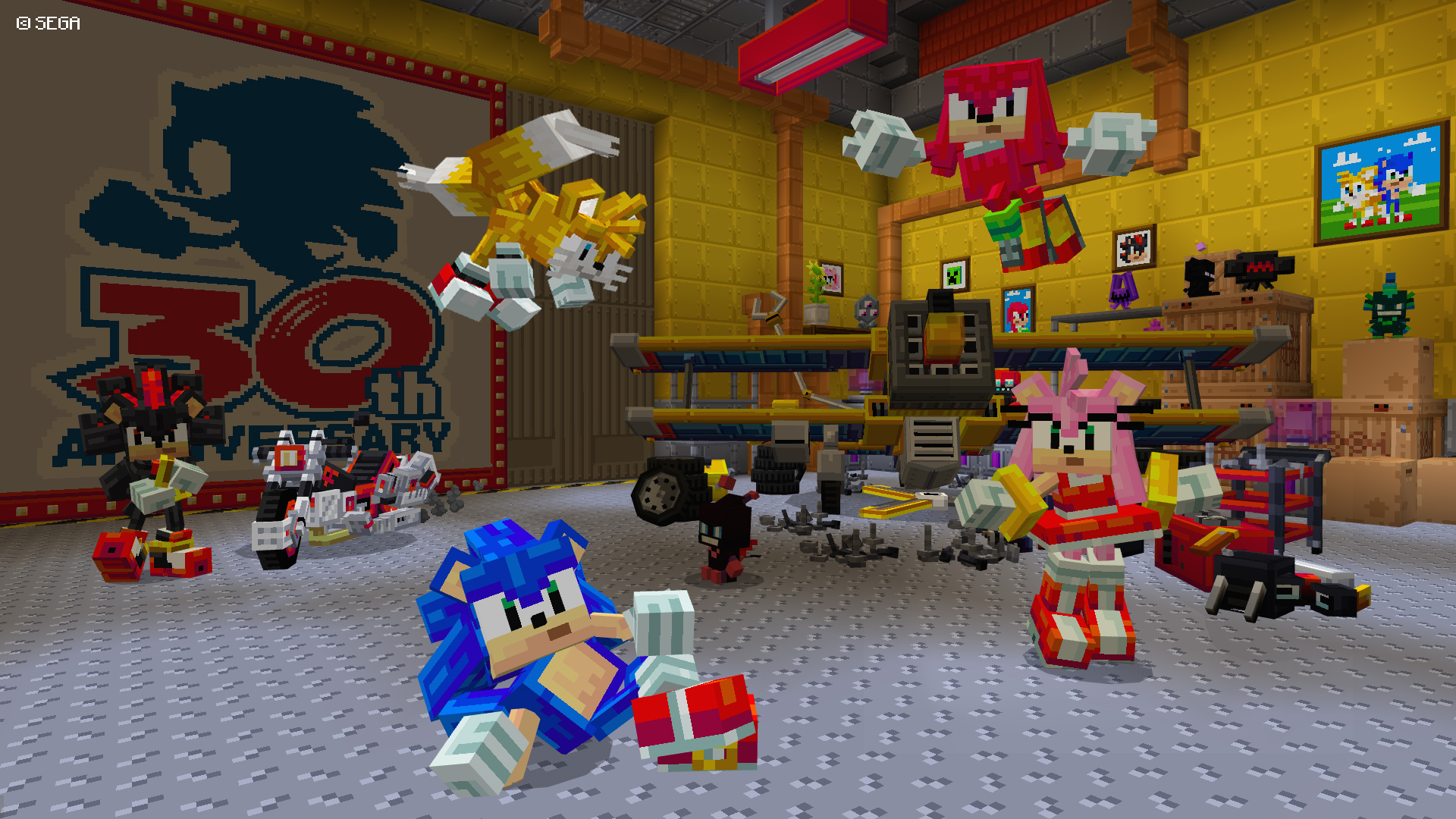 We've brought six iconic characters into Minecraft in Sonic the Hedgehog, here you can find out how to unlock each character and their unique abilities.
Default Unlocked Characters
Upon completing the tutorial and reaching the main hub, you will notice there are some characters in the upper level of Tails' hub are unlocked by default. These are characters you're able to utilize right from the get go. You are able to choose to play these characters by interacting with them.


By Default, you have access to 3 different characters each with separate abilities listed in the table below
Sonic
Spin Dash: Hold sneak to charge your Spin Dash, gain a boost of speed and destroy Badniks!
Tails
Spin Dash: Hold sneak to charge your Spin Dash, gain a boost of speed and destroy Badniks!

Hover: Hold jump to hover.
Knuckles
Dash Punch: Hold sneak to charge a devastating punch, destroying any Badniks in your path.

Glide: After using Dash Punch, jump to glide through the air!
Step 1. Move into the top of Tails's hub towards the Sonic characters





Step 2. Interact with a character to bring up the information interface to read information about the summary and abilities of the characters, and to play them simply hit the button in the bottom left "Play [Knuckles]".




Step 3. You should now be Knuckles!



Purchasable Characters
You're also able to unlock characters through in-game currency 'rings', at the end of each Act you're able to spend the rings you collected on extra lives - or save enough to unlock Amy or Shadow!
Shadow (256 rings)
Chaos Control: Hold sneak to activate Chaos Control. Demolish Badniks and release to launch yourself into the air.
Amy (128 rings)
Smash: Use sneak to charge your hammer! Release to smash Badniks!

Double Jump: After jumping, you can jump again!




After unlocking them, you'll be able to select to use them in the same area the default characters are located (In the upper level of Tails's Lab).




Unlockable Characters
Throughout the game, you're able to enter hidden Special Stages to unlock Chaos Emeralds. Upon unlocking all Chaos emeralds and placing them into the HUB, you will unlock Super Sonic!


Super Sonic
Spin Dash: Hold sneak to charge your Spin Dash, gain a boost of speed and destroy Badniks!

Super Sonic is not damaged by Spikes